There really isn't much about for the bees in November but when the weather permits they really do love the Mahonia for that little bit of fresh nectar.
It hardly seems worthwhile putting this little table in here but let's do it anyway:

Here's another cheery picture of the bees on the Mahonia –  click for a better view: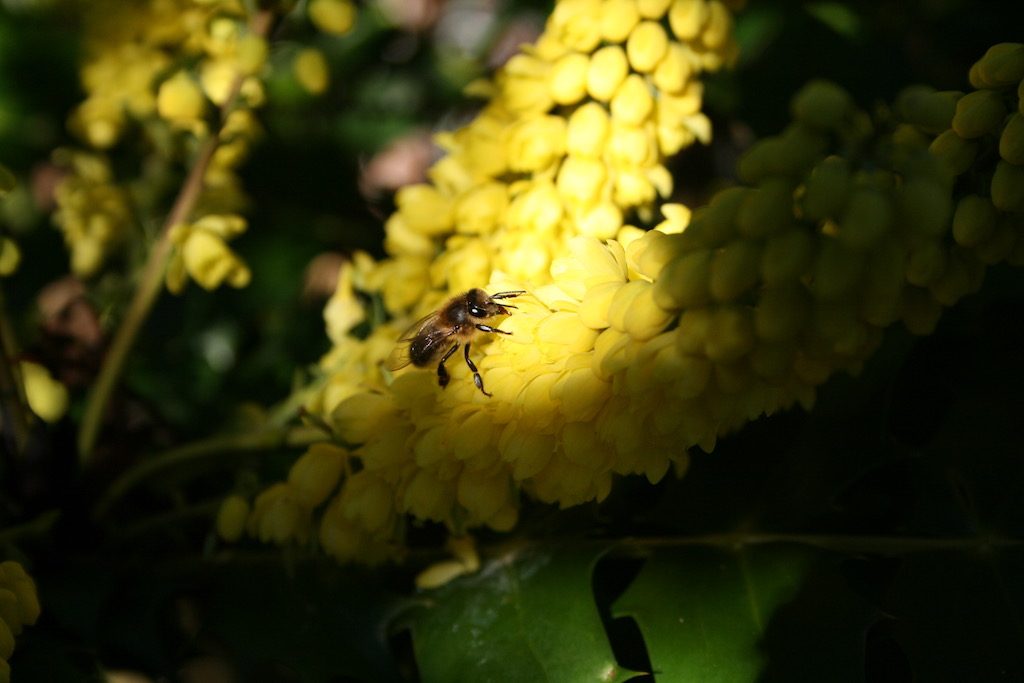 You may have noticed quite a lot of gorse in flower this year (2016) but the autumn has been exceptionally sunny and mild and although the main flowering period for the gorse is mostly March – June it will flower sporadically between times when the weather permits: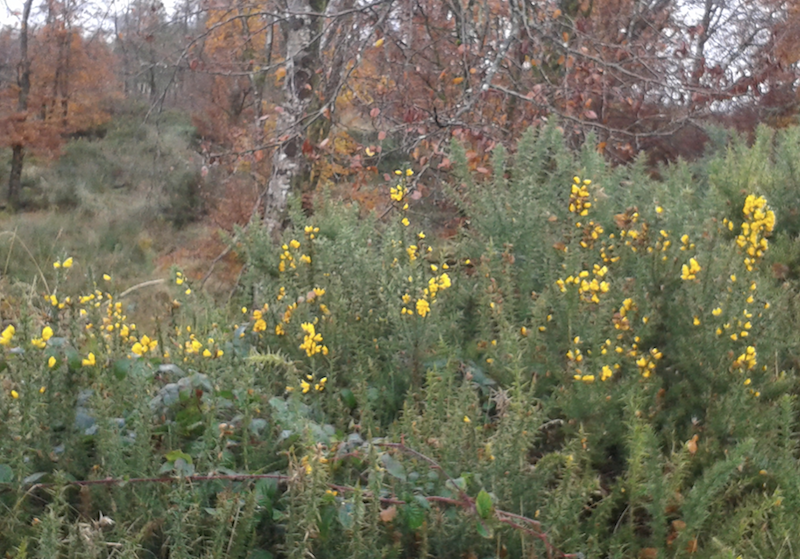 In fact if you look at the gorse that is flowering now you will see the branches are densely laden with flower buds but these will overwinter and flower for us in the spring. If there is another spring…
However, to complicate the issue, there are two species of gorse present in Ireland – Ulex europaeus and U.gallii. U.europaeus flowers from March to June while U.gallii flowers from July to September. This year, 2019, the gorse on the Wicklow hills  and all along the Wicklow gap road  flowered strongly in September so we have to assume that gorse up there is U.gallii. I had bees on the heather and they were bringing in dark orange/brown pollen which could only have been gorse. Ivy pollen is bright yellow and Rosebay Willowherb is blue.
Heather was late this year (2019) and ivy was early. A potentially disastrous situation for anyone set up for heather sections!
It seems to me that the flowers of U.gallii are a slightly darker yellow and much less dense than U.europaeus.
Click here for March Bee Flowers
Click here for April Bee Flowers
Click here for May Bee Flowers
Click here for June Bee Flowers
Click here for July Bee Flowers
Click here for August Bee Flowers
Click here for September Bee Flowers
Click here for October Bee Flowers
Click here for more about Gorse
Click here for a general seasonal guide to important bee flowers
Click here for photos of pollen load colours
Click here for Heather Ecosystem
Click here for how to take a crop of Heather Honey
Click here for how to take a crop of ivy honey
Copyright © Beespoke.info, 2016.  All Rights Reserved.