So the clocks have gone back and the nights are drawing in; the bees are all stocked up and strapped down ready for whatever winter will bring. What is left for the beekeeper to do? Maintenance that's what: –
Supers and honey frames should be scraped clean and stored wet to scupper wax moths, stack them on a floor with a queen excluder on it to keep the rats out, put a couple of sheets of newspaper between supers and top with another queen excluder and a roof or a sheet of plywood. The newspaper stops any moths, or caterpillars making their way from super to super. Make the stacks as airtight as possible so the honey won't draw in water or your supers will be dripping by spring. Last year I wrapped the stacks with clingfilm and that worked a treat. If possible start your stacks in the middle of the floor so you can walk all the way round that way you'll know if there are vermin at work – a rat can chew right through a super;
Get a cat or a better still a couple of kittens – they cost nuppence ha'penny to feed, they're a joy to watch and the vermin hate them;
If you have somewhere light and airy and cold to stack them, so much the better – wax moths are creatures of the dark – light unnerves them;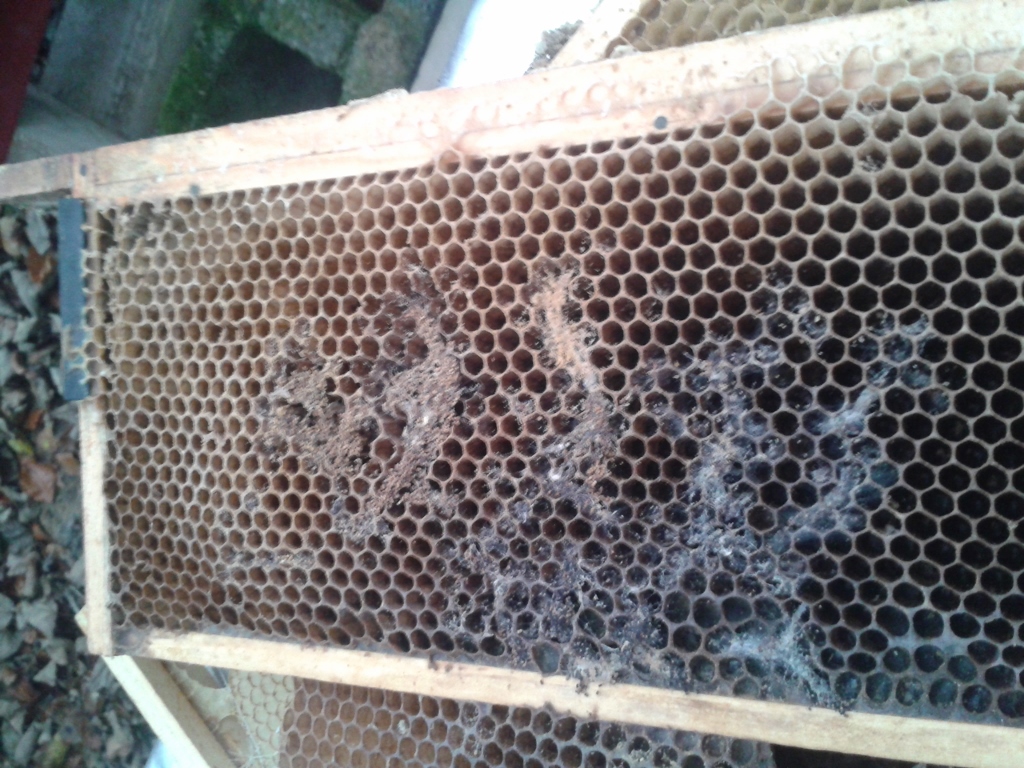 Empty boxes need to be scraped clean and given a light going over with the blow torch. Unless you went for polystyrene…;
Brood frames also need to be scraped clean of wax and propolis; old frames with black wax or gaping holes should be stripped down – don't re-wax till you need them though or the wax will go all hard and the bees won't work it properly they'll just draw out weird abstract works with wings and flaps – but you already know that! If your shed is like mine, empty frames can be stored out of the way in between the rafters;
Frames can be fumigated using acetic acid – click here for how to do that;
Spare gear that's unoccupied needs to be looked over and repairs made where necessary;
All the wax scrapings should be put aside for rendering later;
If you're into propolis – it will chip off best when the weather gets really cold;
Think about candle making – I am;
Think about next year, make plans and write them down before you forget about it;
Improve your bees! Go through your Colony Assessments and do your Colony Appraisals so you know which queens to breed from next year and which to use for your drone rearers;
Make new gear;
Order a book for the winter;
Don't forget to check your bees after high winds;
My bees are still working the last of the ivy here so the queen will be laying away albeit slowly – you need to be aware of that if you are thinking of treating with oxalic acid in the deep midwinter – you'll need at least 3 weeks after the ivy has finished for all that to hatch out otherwise you are wasting your time.
I'm off out to my shed now.
Click here for Winter Oxalic Acid Varroa Treatment
Click here for Acetic Acid Fumigation
Click here for How to Improve your Bees
Click here for Colony Assessment
Click here for Colony Appraisals
Copyright © Beespoke.info, 2014. All Rights Reserved.