Try this recipe for a lovely healthy Beekeeper's Breakfast. Delicious with yogurt, fresh fruit and more honey!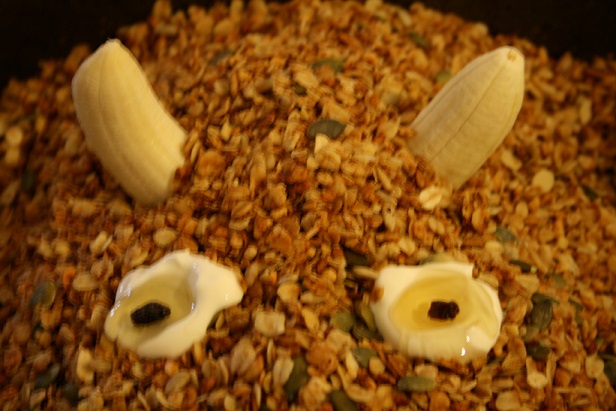 First pre-heat oven to 170 degrees C  for a fan oven or 190 degrees for a conventional oven.
Ingredients
200g Porridge oats;
200g Jumbo oats;
100g Chopped almonds or walnuts;
100g Wheatgerm;
85g Desiccated coconut;
25g Sesame seeds;
50g Sunflower seeds;
150ml Local honey;
90ml Hot water;
150ml Sunflower oil;
1 tsp Vanilla essence;
0.5 tsp Salt;
50g Pumpkin seeds.
Method
Combine the first 7 ingredients in a large bowl;
Mix together the honey, the hot water and the salt in a jug or other bowl then whisk in the oil and the vanilla essence;
Pour the honey/oil mixture into the oats etc and stir together well;
Spread the lot into a large roasting tin;
Place into the centre of the pre-heated oven and cook for about 45 minutes or until golden in colour;
Note – you will need to stir this regularly to prevent scorching – particularly towards the end of the cooking time;
Stir the pumpkin seeds through the mixture while still hot;
Allow to cool completely before storing in one of those airtight plastic tubs.
Click here for more about Cooking with Honey
Copyright © Beespoke.info, 2015. All Rights Reserved.