Here's the quickest, easiest way to hive a swarm from Master Beekeeper Jim Donohoe…
Materials
The hive you are going to put the swarm into, equipped with at least 2 frames of stores and 2 drawn frames – the rest can be foundation
A rapid feeder – Ashforth or Miller type
Strong syrup
A spare brood box.
Method
At this point I'm going to assume your skep is face down on the ground, or on a sheet like the one in the photo above but with the swarm hanging up inside it.
Do this at dusk or late in the afternoon
Set up your hive floor on the stand where you want the swarm to live;
Gently turn your skep upside down and set it quietly on the floor inside the spare, empty brood box thus: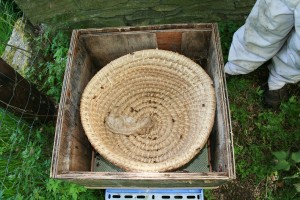 Get your other brood box and set it on top of the box with the skep in it;
Set the rapid feeder on top, fill with strong syrup and prime it ie slop an amount over the feeder rim onto the frames below;
Put the roof on;
Walk away;
During the night, as long as they have a queen with them, the bees will walk up out of the skep and by morning will have occupied the frames and be taking down syrup;
If your swarm is absolutely huge – it might take a bit longer.
Next day remove the empty skep and the spare brood box.
Click here for general information on hiving a swarm
Click here for Hiving a Swarm the Pretty Way
Click here for Hiving a Swarm the Brutal Way
Click here for How to Make your own Skep
Copyright © Beespoke.info, 2015.  All Rights Reserved.