There was a great flow this May (2014) and there is a heavy crop of hawthorn honey on board – a once in 5 year occurrence in these parts. Hawthorn pollen is a pale cream colour but you'll know if you've got hawthorn honey because you will smell it!
Click here for 'Bee Trees – Hawthorn'
Here's a photo of a hawthorn bee with pollen, click it for a better view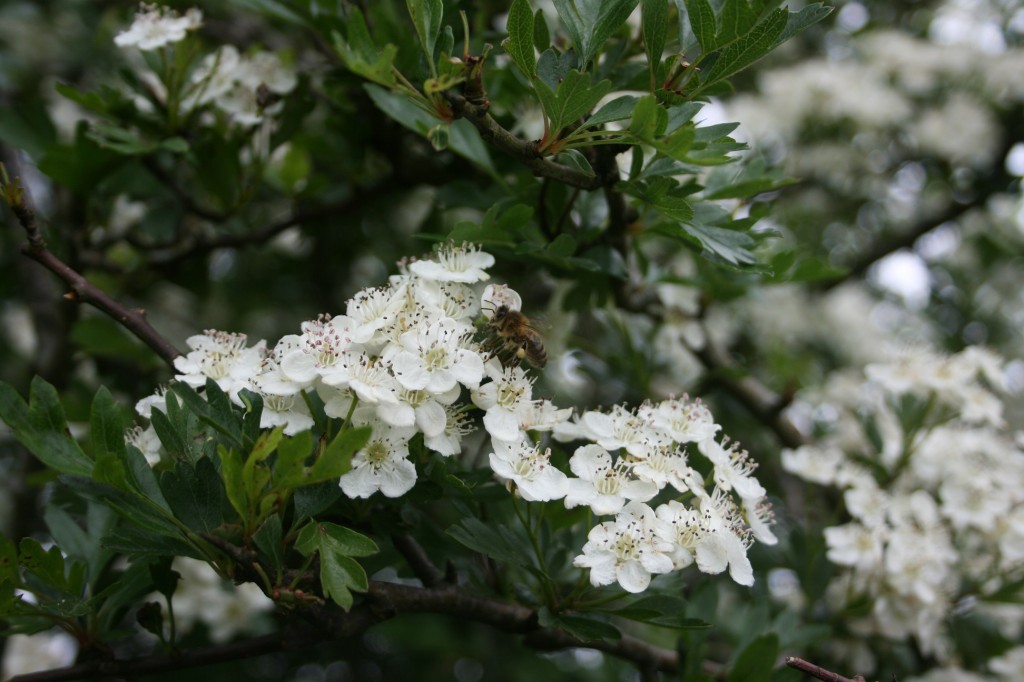 When there is this much honey from an early flow it's best to take at least some of it off if only to spare the beekeeper's back. Take only the sealed honey if possible, that way you'll leave some for the bees in the June gap.
If, however, you suspect there may be rape in amongst it – you have no choice – you will have to take the lot off. If they have no feed below you should rapid feed a gallon or so of strong syrup but take the supers off first or they'll put it in there.
Alternatively you could place a lump of fondant or better still Ambrosia (special bee fondant made with inverted sugar) over the feed hole. They won't put this in the supers but if they need it – it's there and it will also pull the bees straight up in to the supers which might help prevent overcrowding → swarming etc.
Copyright © Beespoke.info, 2014. All Rights Reserved.