The gorse is in bloom early this year, although what is it they say – 'When gorse is out of bloom, kissing is out of fashion' – is that it?
Look out for orange/brown pollen loads – along with the brighter orange from the snowdrops.
In fact, when the weather does warm up and the bees are active and bringing in that brown pollen it is worth going out to watch them working the gorse because the flower is specially designed to  make best use of the bees for pollination. Enjoy the strong coconut scent of the flowers while you're at it.
The flowers each have a keel (lower part) and a banner (upper part). The banner is as the name suggests – a brightly coloured flag to lure insects. The keel is the boat-shaped lower part which offers itself as an insect landing pad. But all is not what it seems. The first bee to land on a freshly opened flower triggers the keel to burst apart releasing the spring-loaded reproductive paraphernalia which shoots forth like a boxing glove on a spring. The unsuspecting bee is hoisted into the air and a bunch of stamens, like a paint brush, dusts its abdomen with pollen.  At the same time, the style (female bit) jabs the bee in the belly and picks up gorse pollen from a previous floral heist. In fact here's a photo I took – click it for a close up: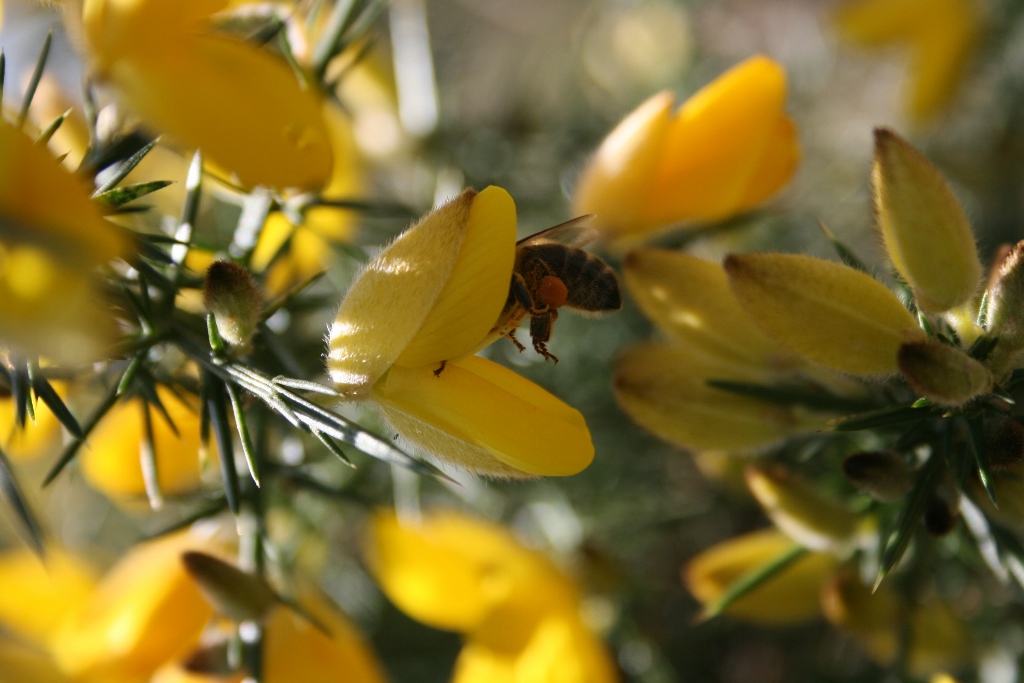 They say that the bees only get pollen from the gorse but if you watch them, they battle their way past the stamens and strive to get to the very throat of the flower. I think there must be a little smear of fresh nectar down there to draw them in – not enough for a crop of course but enough to act as a lure to a poor creature that's struggled through winter on reconstituted and regurgitated honey.
Gorse is also under threat from the strangely named 'Heritage Bill' which came before the Seanad in 2017. If this bill is passed then among other acts of environmental vandalism we will have to watch out lovely gorse grubbed out and burned in full March bloom.
Click here for more about the Heritage Bill
Click here for more on gorse pollination
Copyright © Beespoke.info, 2014. All Rights Reserved.