Here is a table showing the flowering periods and pollen load colours of some of the more important  plants – click it for the bigger picture. Mahonia, snowdrops and hazel are important as early sources of fresh pollen, as is willow. However, in an exceptional spring there could be a honey flow from the willow; something which would never occur with the other three. Especially the latter as it is wind pollinated and as such never bears nectar.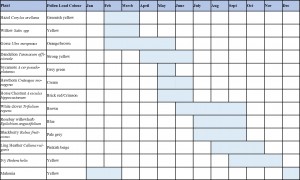 Here are some links to photo's of pollen loads for the various flowers:
Or click these links for more detailed month by month tables:
Click here for Bee Flowers – March
Click here for Bee Flowers – April
Copyright © Beespoke.info, 2014. All Rights Reserved.