Mostly Apideas are  used to rear queens from queen cells. However, there are occasions when you may want to introduce a laying queen or a virgin into an established Apidea.
If you've got a postal cage – introducing a queen into an established Apidea is easy as falling off a log. Click here for how to use a postal cage to introduce a queen bee to an Apidea
If you haven't got a postal cage – another simple way of introducing a queen to an Apidea is to make a queen shuttle. Read on:
Get one of those hair curlers old ladies use;
Remove the spongy outer layer;
Cut a lengthways strip out of the slotted plastic core so that when you roll it up again it will make a tube slim enough to fit through the hole in the Apidea crownboard;
Roll it up again and secure it top and bottom with some strips of duct tape;
Plug the top with a rolled up strip of foundation and secure it with a slender panel pin – like this: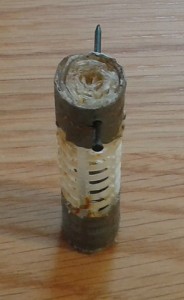 If you get the pin as close as possible to the top you should be able to suspend the shuttle either through the crownboard with the flap folded back – or beneath it if you prefer;
Put queenie in the shuttle and shut her in by closing the entrance with a sheet or two of newspaper and a rubber band;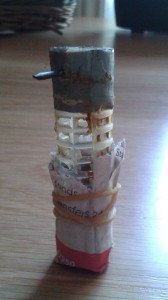 The weird light in the photo above indicates the queen is on board and ready for transport – like this batch below;
Stick the shuttle in thus and –  with the flap folded back – replace the lid: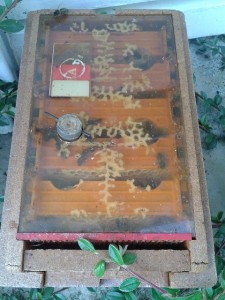 Leave them alone for while to get to know each other.
Click here for how to set up an Apidea from scratch
Click here for how to introduce a new queen to an established Apidea in a postal cage
Click here for how to unite a number of queenless Apideas
Click here for more on overwintering Apideas
Click here for how to feed a winter Apidea
Click here to listen to piping queens
Click here for How to Set up a Jenter Kit
If all else fails – click here to buy one of my mated Native Irish queens
Copyright © Beespoke.info, 2015.  All Rights Reserved.